Explore Pennyweight
Wines
All wines at Pennyweight are estate grown, certified organic and bio-dynamic and made at our winery in Beechworth. Explore our range of wines below, including white and red table wines, fortified wines and spanish-style aperas.
Scroll down or use the buttons below to learn more...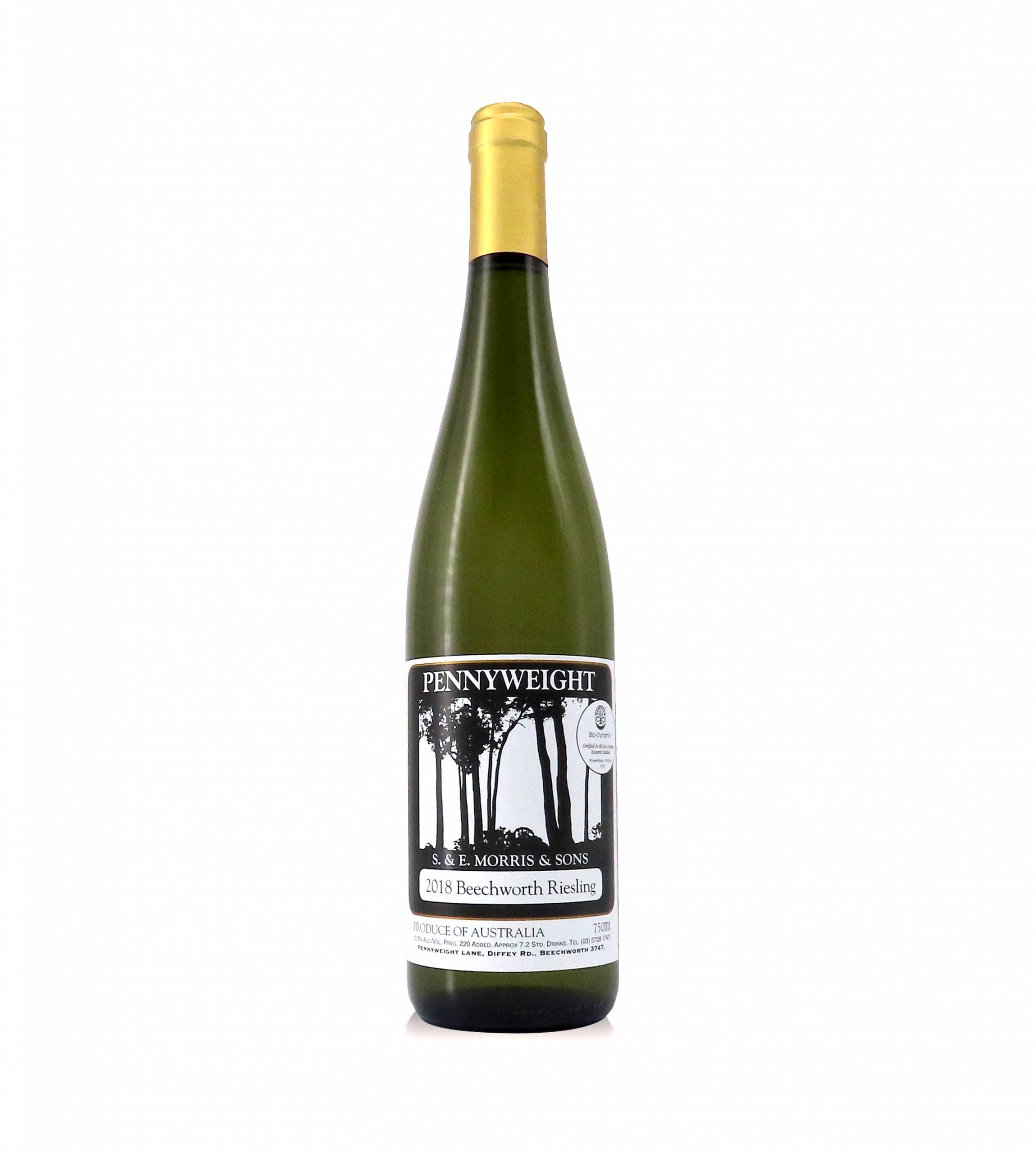 2022 Pennyweight Beechworth Riesling
Full barrel fermentation. Aged for 11 months in old French oak casks.
This lovely wine is a pale straw colour with a faint greenish tinge. There are lemon blossom and mineral aromas on the nose. The palate has fine dry citrus flavours. A long dry, crisp acid finish. Enjoy now or cellar up to 6 years.
Compliments oysters, grilled whiting, and delicate fish, grilled chicken, or lemon risotto.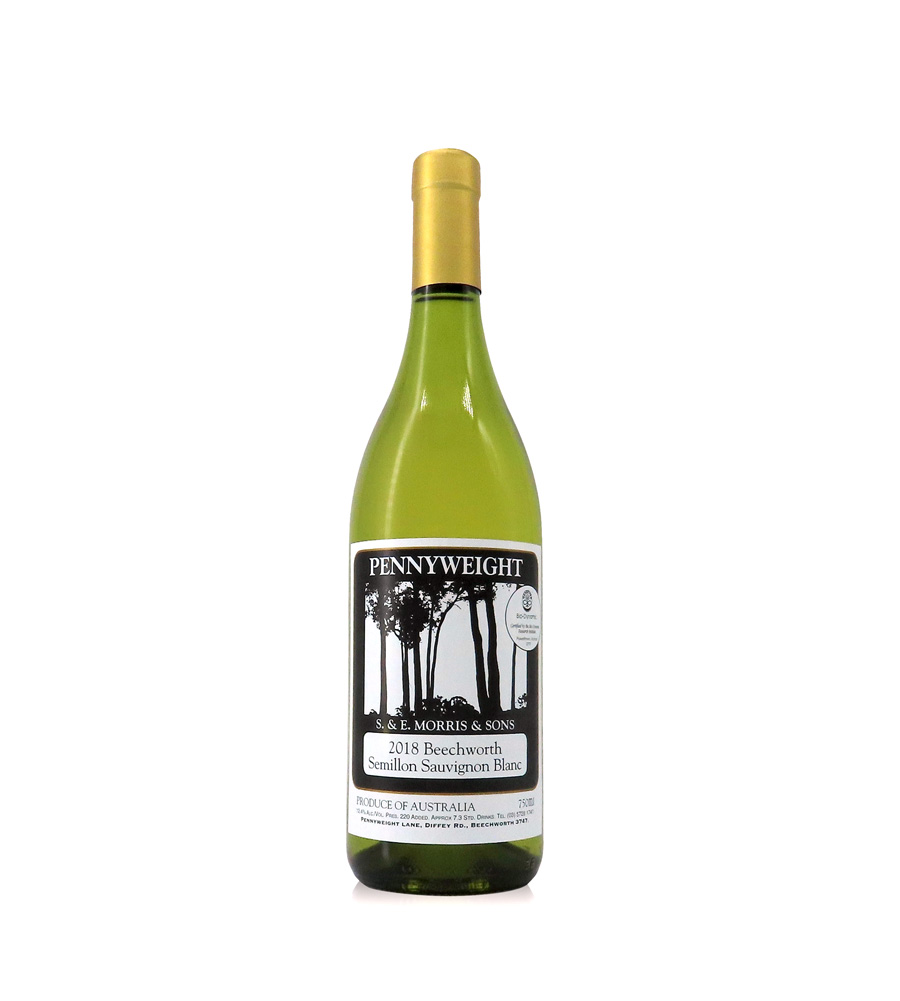 2021 Pennyweight Beechworth Semillon Sauvignon Blanc
Full barrel fermentation. Aged for 10 months in old French oak puncheons.
A pale straw coloured wine with a greenish tinge. The nose has aromas of citrus, melon and tropical fruit. The palate is filled with creamy citrus flavours. The finish is long, full and dry. Drink now or cellar up to 6 years.
Enjoy with Pad Thai, roasted chestnut, pumpkin and ricotta salad, Barramundi and seared scallops.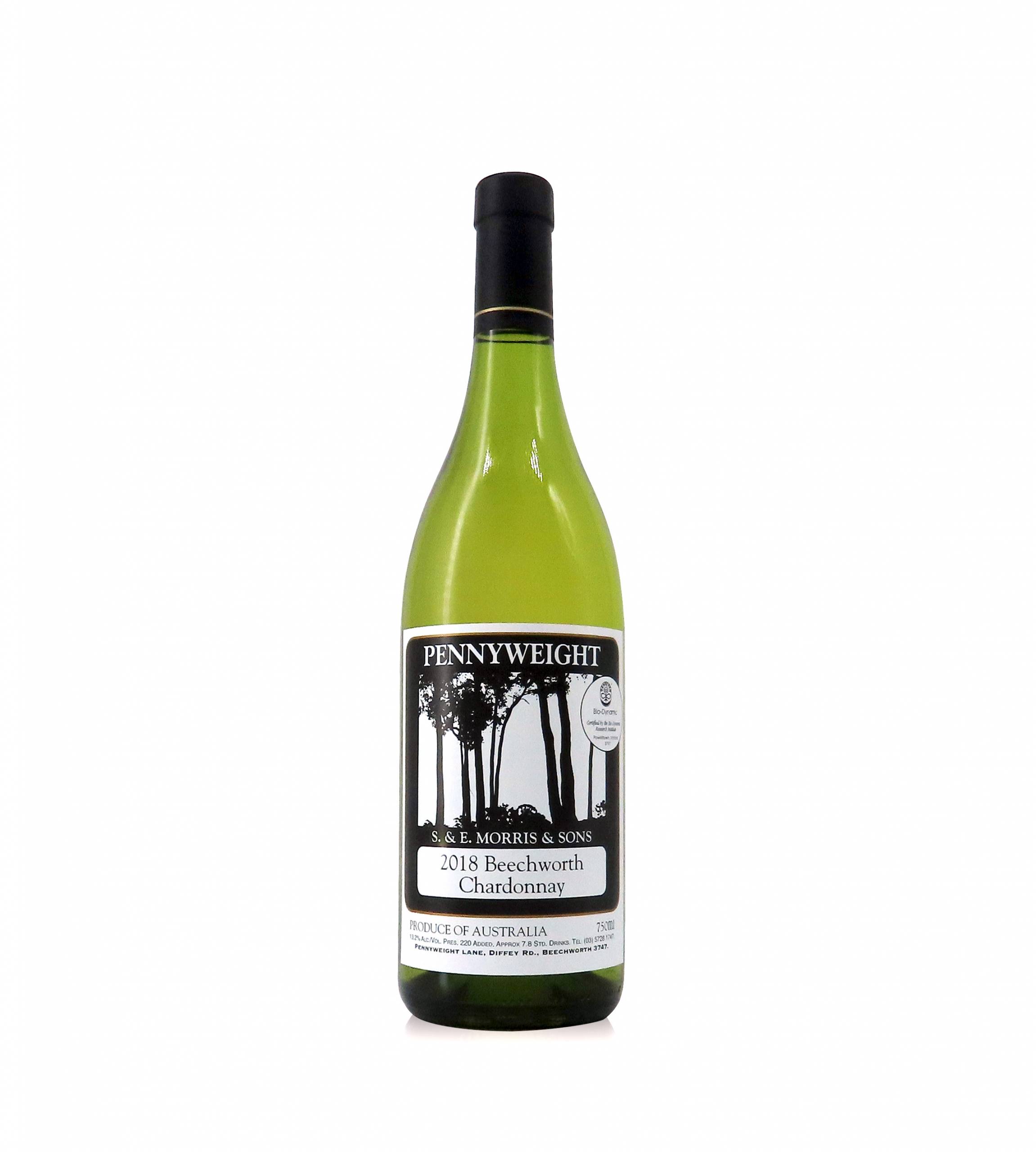 2022 Pennyweight Beechworth Chardonnay
Full barrel fermentation. Aged for 11 months French oak casks.
This pale gold wine has a fragrance of nectarine, lychee and vanilla. The middle palate is soft and creamy with flavours of peach and a touch of cedar. It has well balanced medium acidity and ends with a crisp, dry citrus finish. Drink now or cellar up to 6 years.
Pair with a charcuterie board, miso ramen noodles or sweet lemon souffle.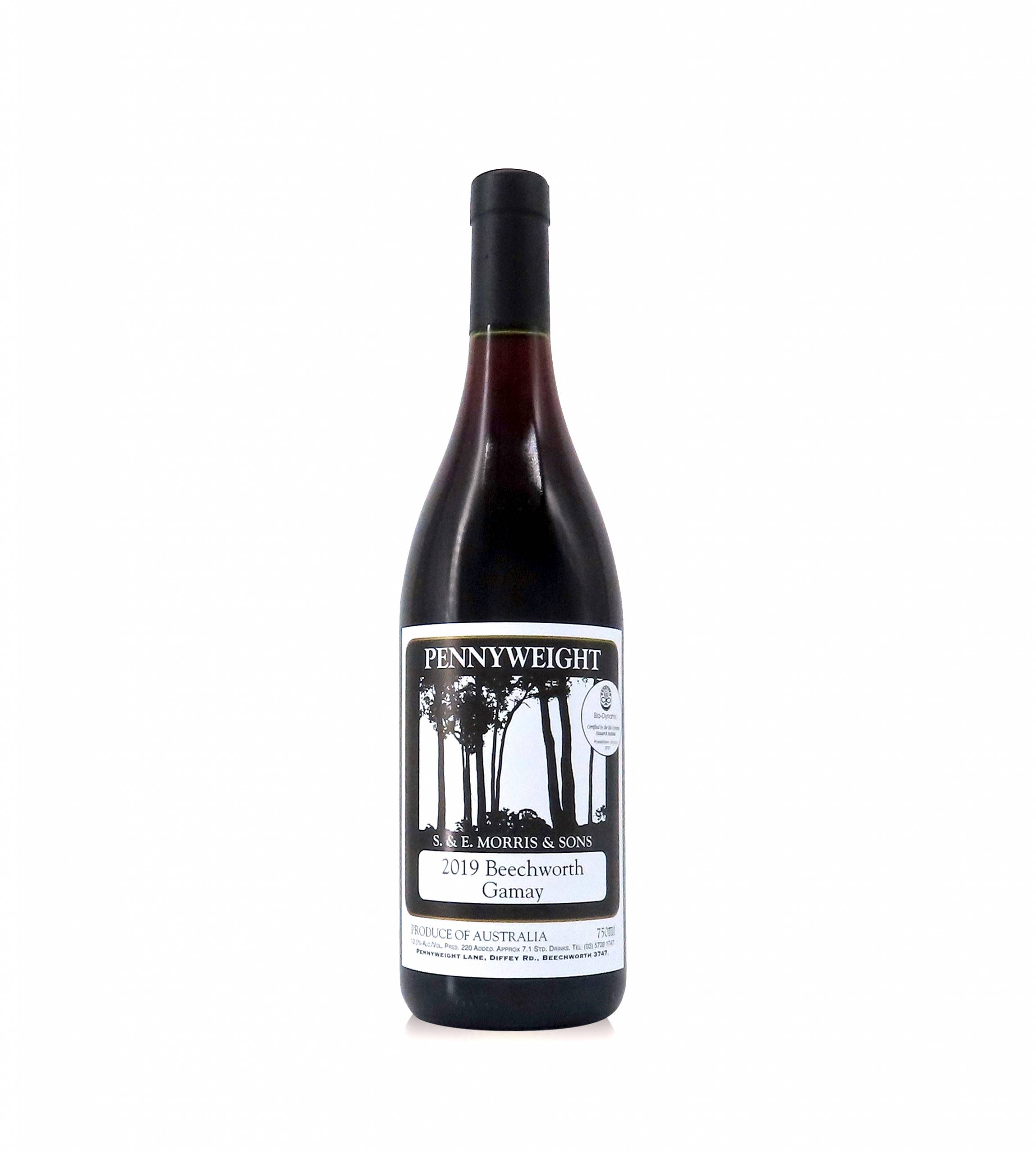 2022 Pennyweight Beechworth Gamay
Aged for 9 months French oak casks.
The bright red cherry colour immediately grabs your attention, but the sweet summer fruits on the nose are what entice you for that first sip. Strawberry, cranberry and a subtle hint of feijoa. It is crisp and lively, with a dry finish and could be paired with almost any food. We enjoy it chilled in Summer. Drink immediately or cellar up to 6 years if you can resist.
Serve with seafood paella, slow cooked pork belly and coleslaw sliders, or any veg on the BBQ!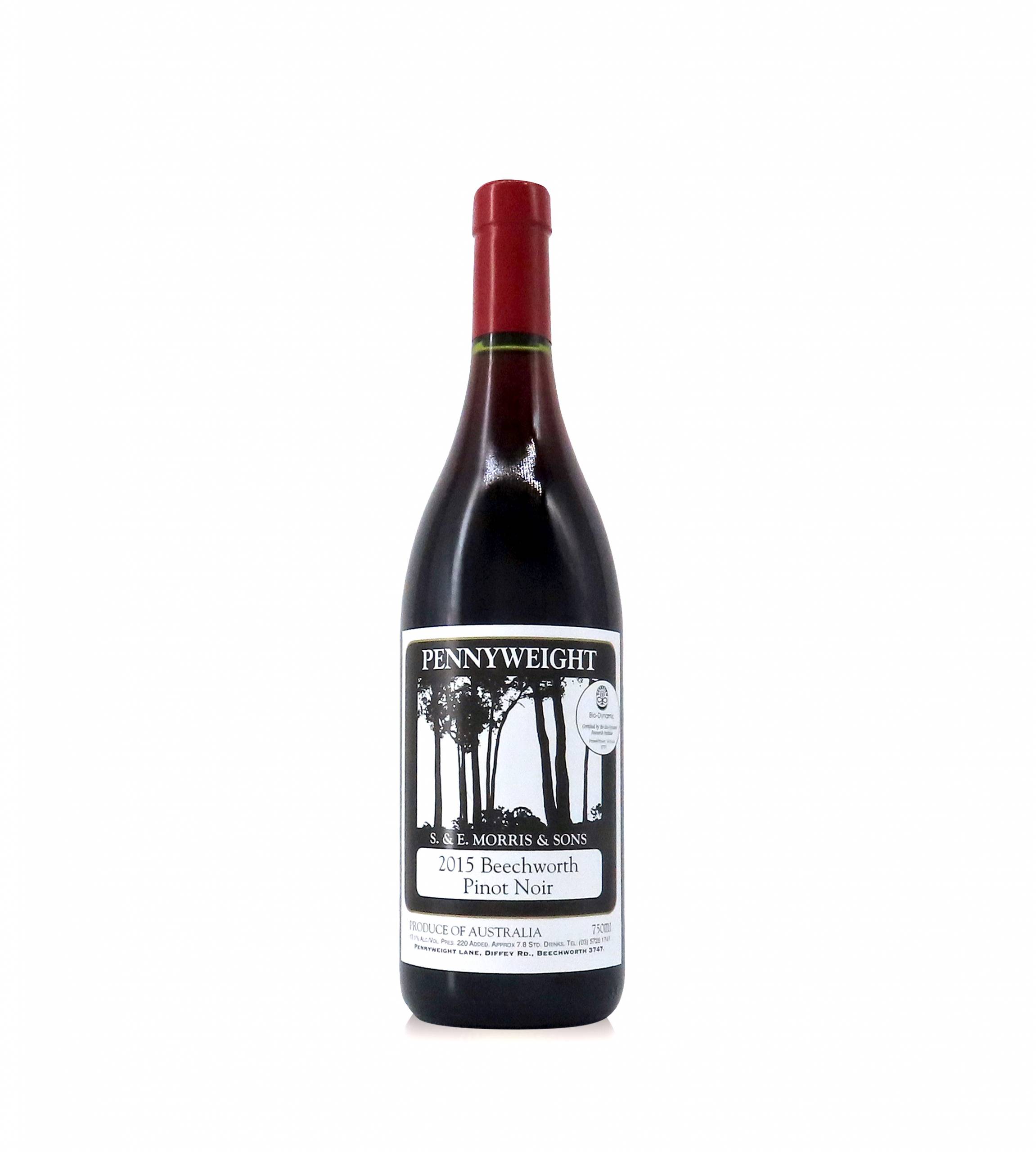 2018 Pennyweight Beechworth Pinot Noir

Aged for 22 months in French oak
This vibrant deep cherry coloured wine has a fragrance of earthiness, violets, and spice. The pallet has delicious rich berry fruit a hint of cloves and soft tannins. There is a firm fine tannin finish. Enjoy now or cellar up to 10 years.
Delicious with all game dishes, coq au vin and wild mushroom risotto. Mmm!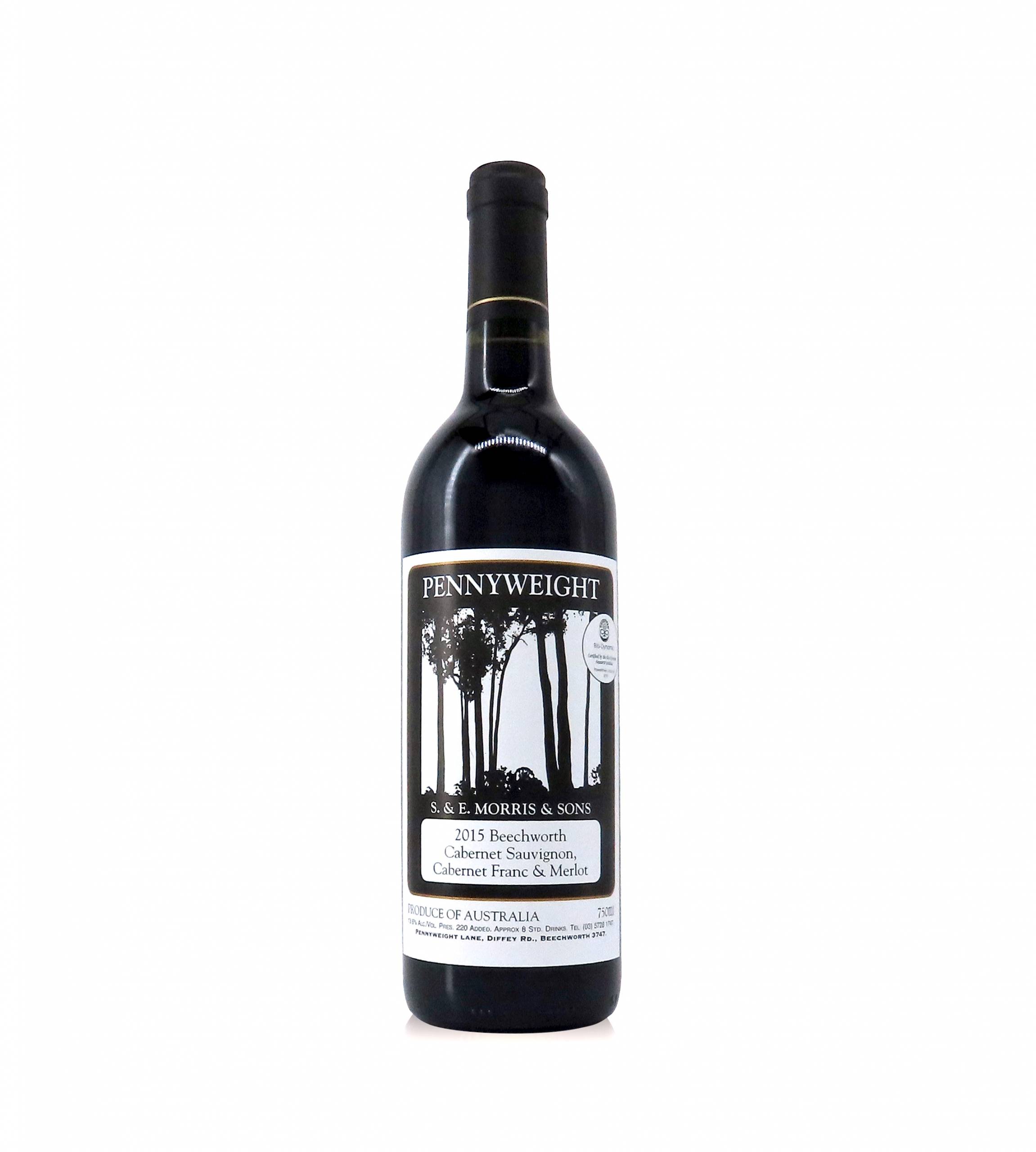 2018 Pennyweight Beechworth Cabernet Blend

Aged for 22 months French oak casks.
Cabernet Sauvignon 50%, Cabernet Franc 20% and Merlot 30%.
A deep crimson red colour gives way to a smooth chocolate and plum nose. This is an elegant, well structured wine with blackberry, blackcurrant and licorice notes. Soft full middle palate with firm swirling tannins. Excellent dry finish. A real "I'll have what she's having" moment.
Enjoy with Steak sandwich and fat herby chips, a classic Sunday roast with Yorkshire pudding or even a sneaky block of dark chocolate.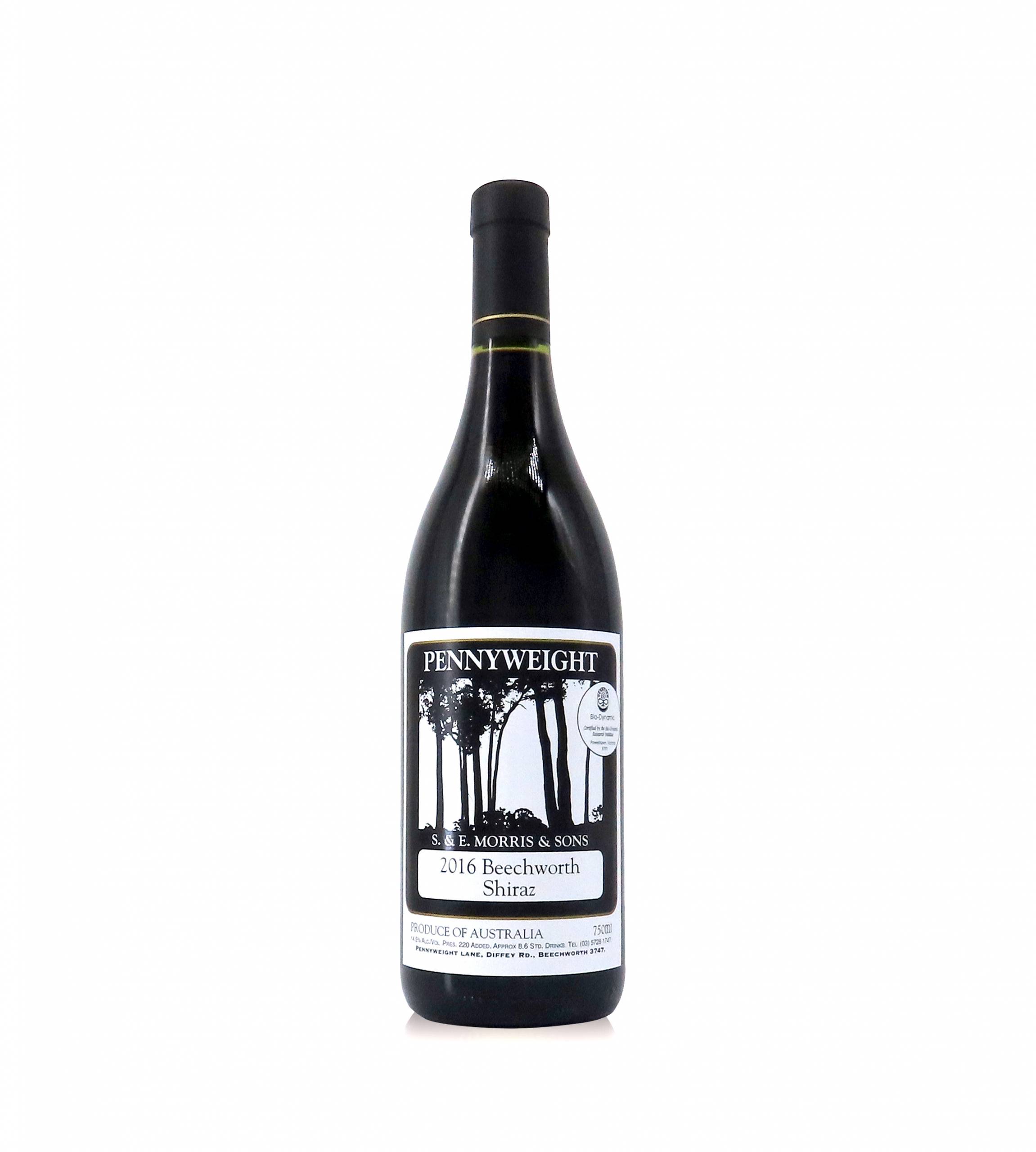 2019 Pennyweight Beechworth Shiraz

22 months French oak hogsheads and puncheons
This lovely medium bodied cherry coloured wine has a sweet fragrant nose of licorice,
seaweed and black pepper. The palate shows blackberry, pepper and aniseed with soft
dusty tannins.
The finish is firm and lingering. Enjoy now or cellar up to 15 years.
Compliments braised lamb shanks, mushroom & truffle risotto, roast venison. Mmm!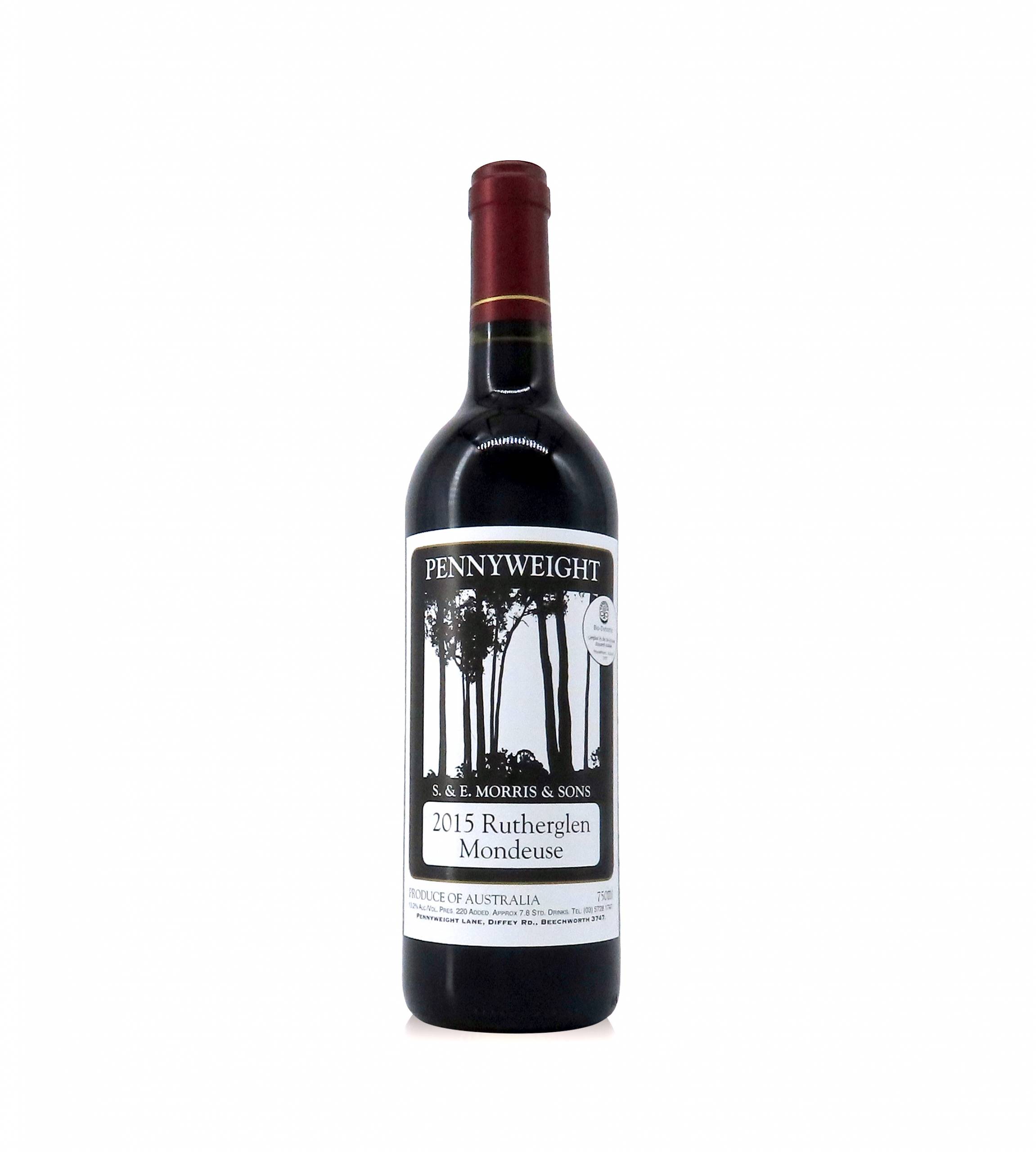 2016 Pennyweight Rutherglen Mondeuse

Aged for 20 months in French oak hogsheads.
A little known grape variety from Savoie in the eastern part of France, this wine is purple- red in colour. It has a distinct cherry, vanilla and cedar nose. Enticing and complex, this wonderfully balanced wine features high tannin and acid with black fruits, sour cherries and a hint of freshly ground pepper. Pour yourself a glass, it's like finding the last piece of a black forest cake in a hidden tin and keeping it all for yourself. Cellar for up to 10 years.
Serve with spinach and ricotta cannelloni or a charred rack of lamb.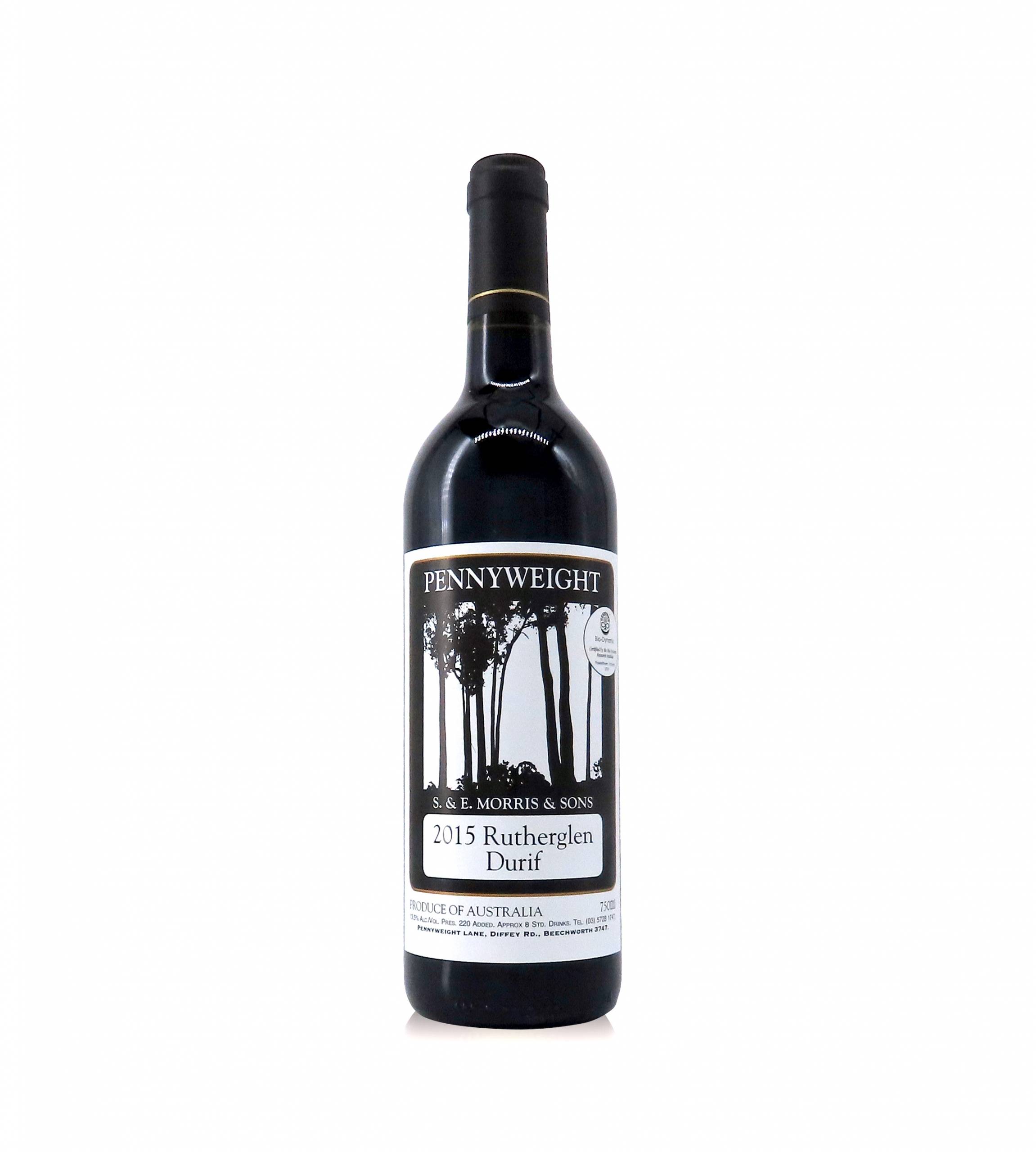 2017 Pennyweight Rutherglen Durif

Aged for 20 months French oak casks.
This generous wine is a deep ruby colour. It has aromas of cedar, sweet tobacco and chocolate. The full, soft palate has flavours of dark plum fruits and chocolate. Firm tannins and a long dry finish. Dangerously inviting! Enjoy now or over the next 10-20 years.
Compliments rich winter dishes such as beef cheek, ox tail, wild boar sausages and quince & plum ratatouille, or even dark chocolate. Yum!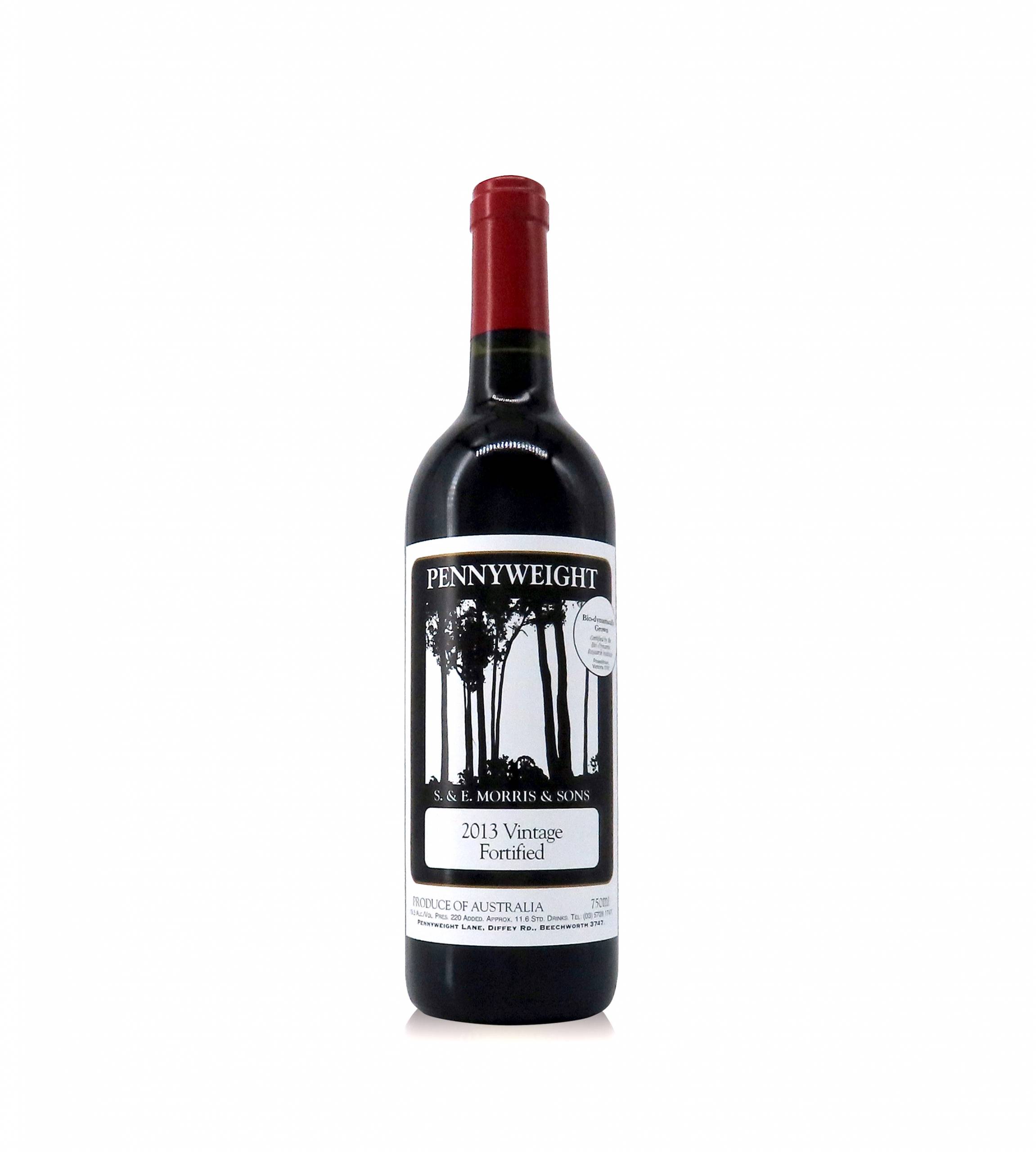 2015 Pennyweight Vintage Fortified
12 months in old puncheon
This excellent example of a Vintage Port is a deep ruby colour, with tantalising aromas of blood plums, cherries and blackberries. The sweet complex fruit is contrasted by crisp refreshing acid, brandy undertones and a delicate chocolate liquorice palate. One thinks of the classic fig and raisin combination, with a dry finish.
Drink now or cellar for as long as you can resist.
Enjoy with aged cheddar or gorgonzola, and a few pieces of dark chocolate.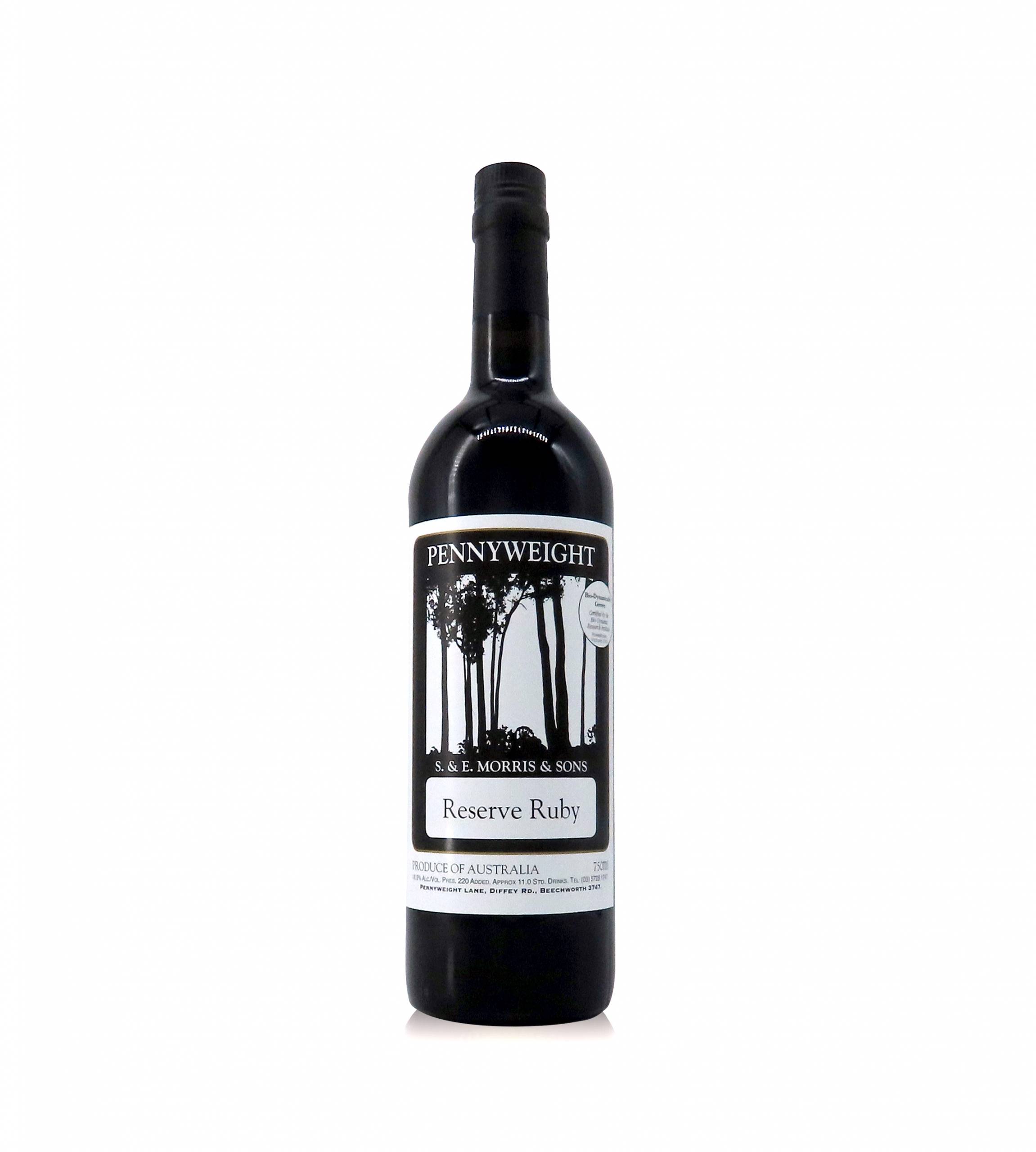 Pennyweight Reserve Ruby
Sweet Red Fortified. Average 5 years in old oak casks.
The nose shows brandy and lifted aromatic characters from the Portuguese grape varieties, which form an important part of the blend. The palate is soft and rich in the middle, there is tight firm tannin finish, and excellent length.
It would be hard to find an occasion when not to have a glass.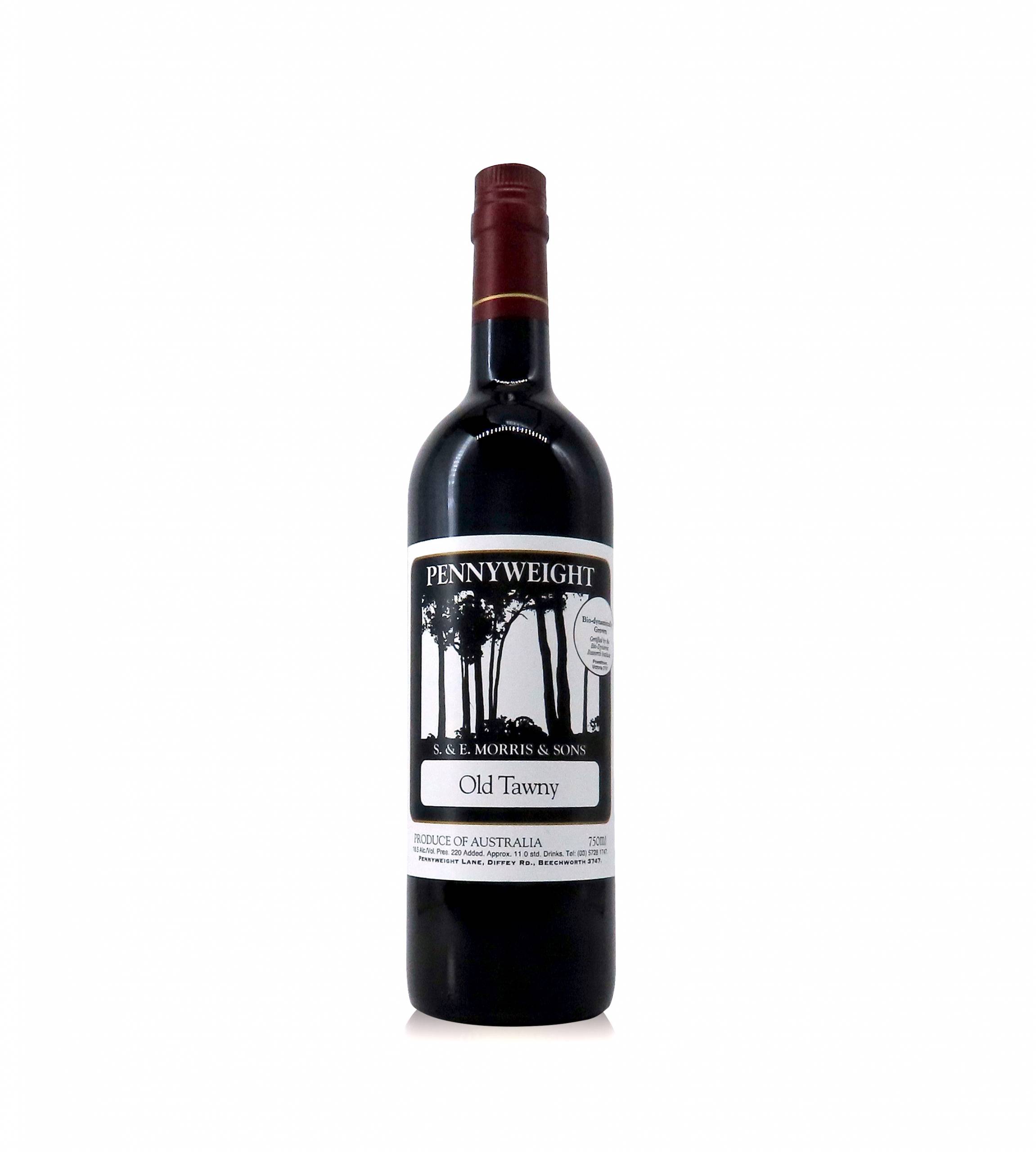 Pennyweight Old Tawny Port

Average 20 years in old oak casks
Made from Portuguese port varieties, Tinta Cão and Touriga Nacional, along with Shiraz and Durif. The incredible age of this wine results in the deep tawny colour, and a fine complex is formed from the rancio and brandy elements, and the sweet and mellow fruit of the middle palate.
Clean semi dry finish with excellent length, perfectly suited to the colder months.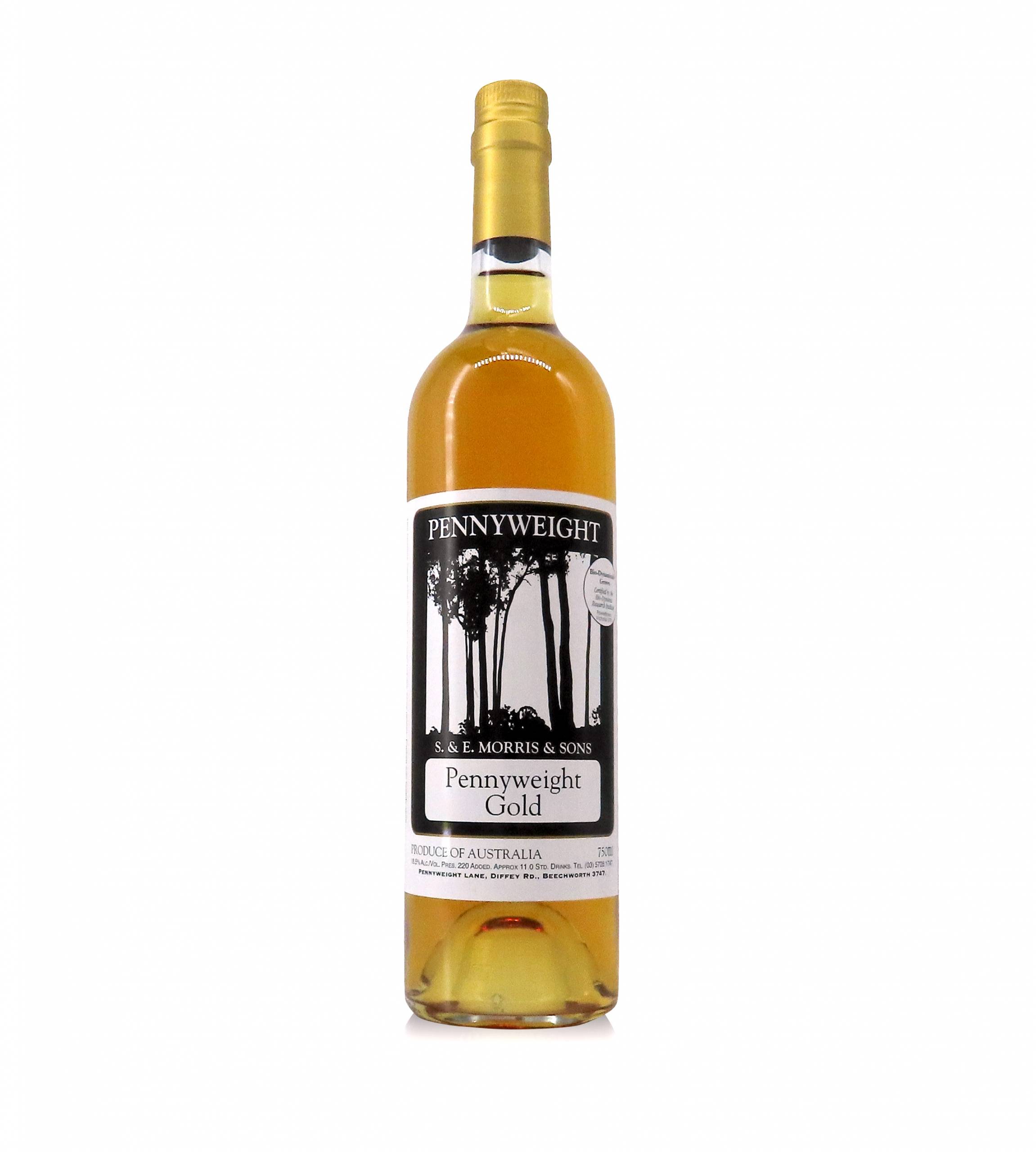 Pennyweight Gold

Average 7 years in old oak casks
This luscious sweet wine is made from selected well ripened white grapes, fortified with brandy spirit, and aged for several years in old oak hogs heads. Enjoy chilled as a delicious aperitif, a dessert wine or as a mixer with tonic, ice and lime. You'll love every ounce of Pennyweight Gold!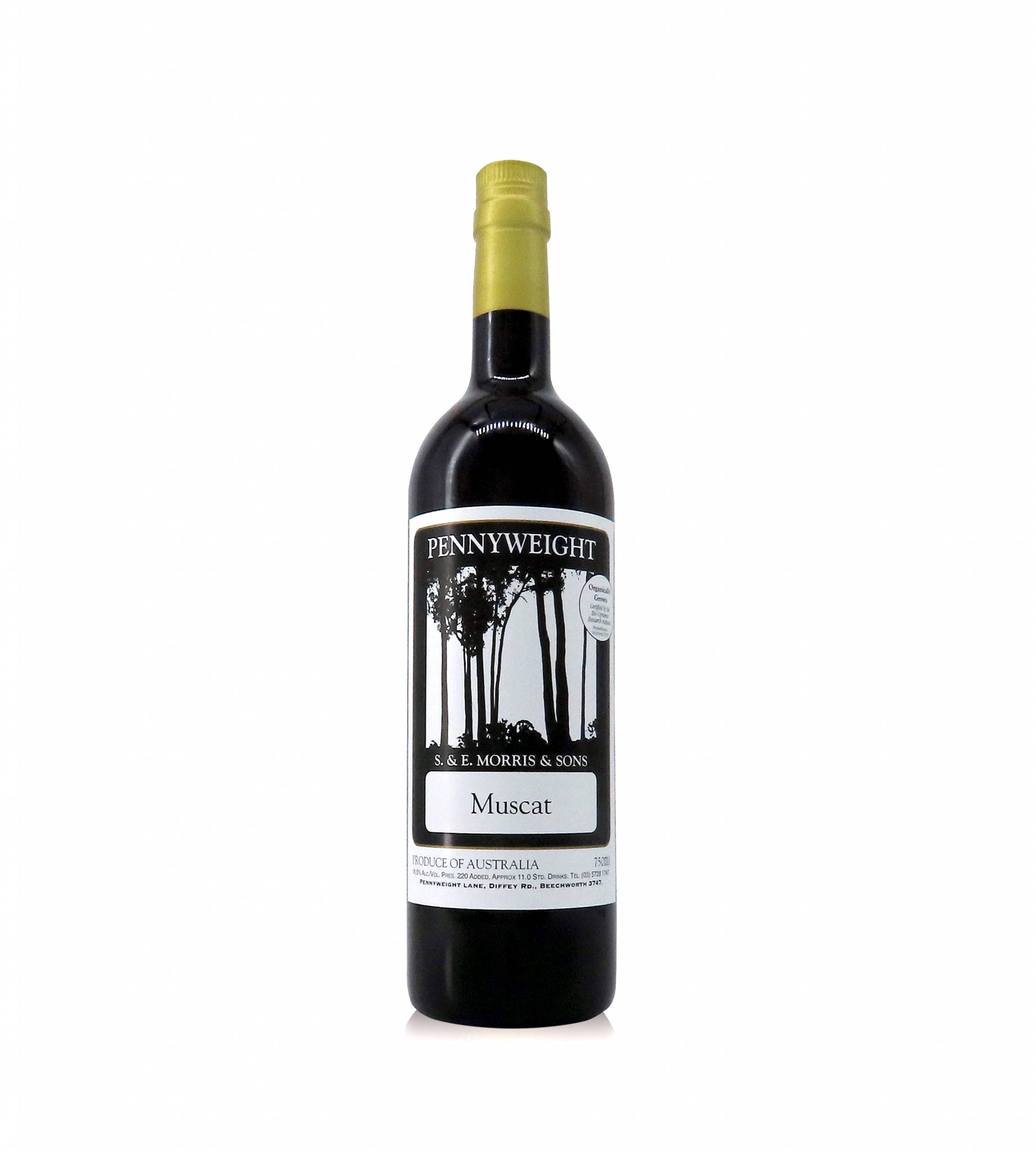 Pennyweight Rutherglen Muscat

Average 9 years in old oak casks
Lifted Muscat fruit aromas on the nose. The palate is rich and luscious, with aged characters coming through. A clean rich finish, with very good length. Made from grapes grown at our Pennyweight and Sun Low Kee Vineyards.
'It slips down your gullet, like the devil in velvet trousers.'

Great with Gorgonzola cheese.  Drink a little and often!
The Soleros for these Aperas were started in 1980

A Solero is a number of casks of wine set up to allow movement of wine from youngest to oldest. As wine is taken from the oldest casks for bottling, it is replaced by wine from the next oldest and so on through the stack. Up to 60% of wine may be removed from a cask.
This process allows for a thorough blending of the different years and batches of wine, as well as progressive ageing of the sherry. The finished bottling wine should thus have a reasonably constant style. In theory there is still some of the 1980 sherry in the Solero.
This procedure is obviously very labour intensive.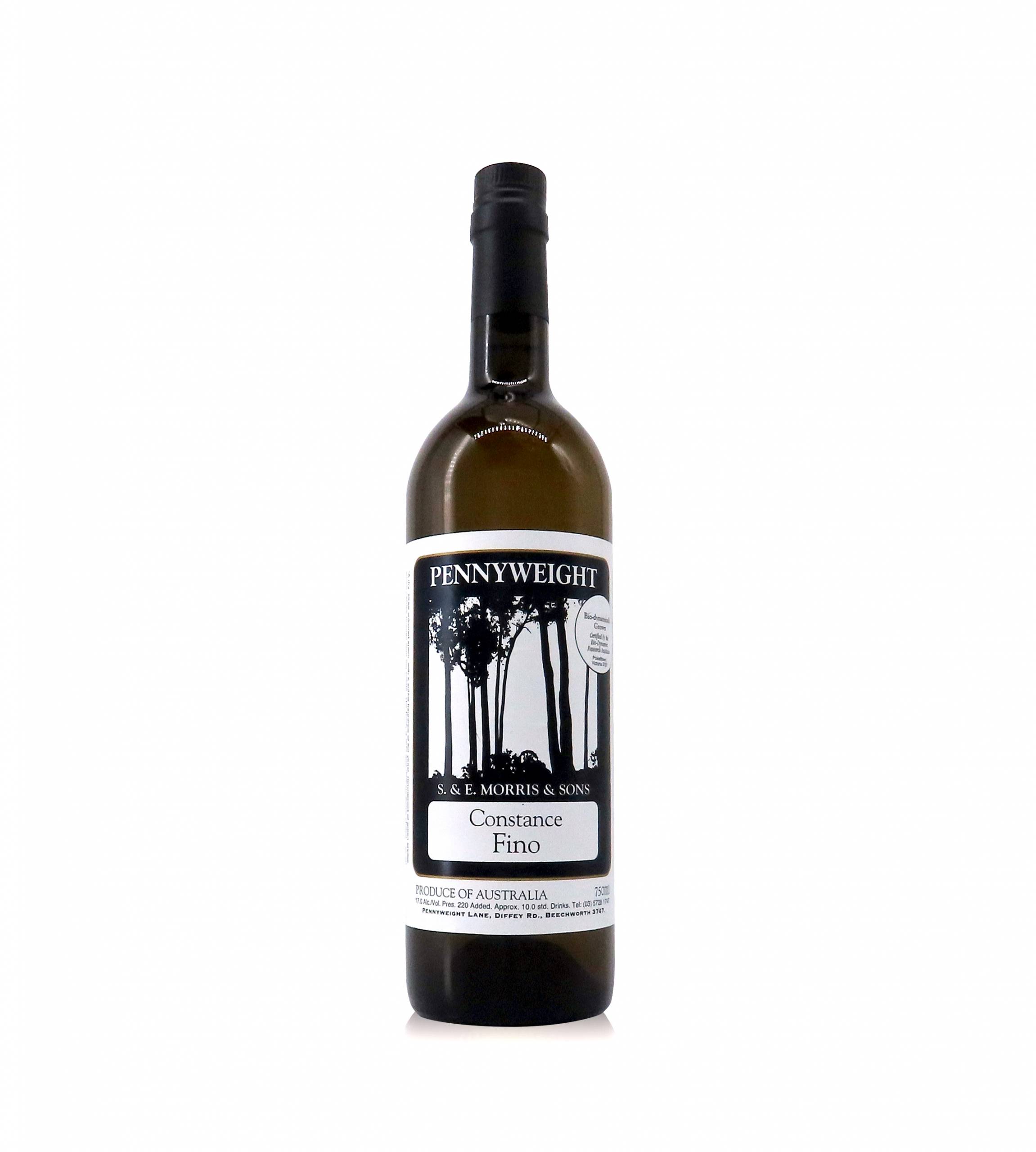 Constance Fino

Average 3 years in solero.
A dry, straw coloured sherry, with a subtle fragrance of flor yeast, reminiscent of green apples, which carries through onto the palate. The finish is light and delicate.
Serve chilled, as an aperitif, or with light foods. Refrigerate after opening and use within 4 weeks.
The Constance is named after Constance Morris, Fred's Grandmother. The Mia Fino Sherry was her passion at Morris' Winery. We might add she drank it constantly!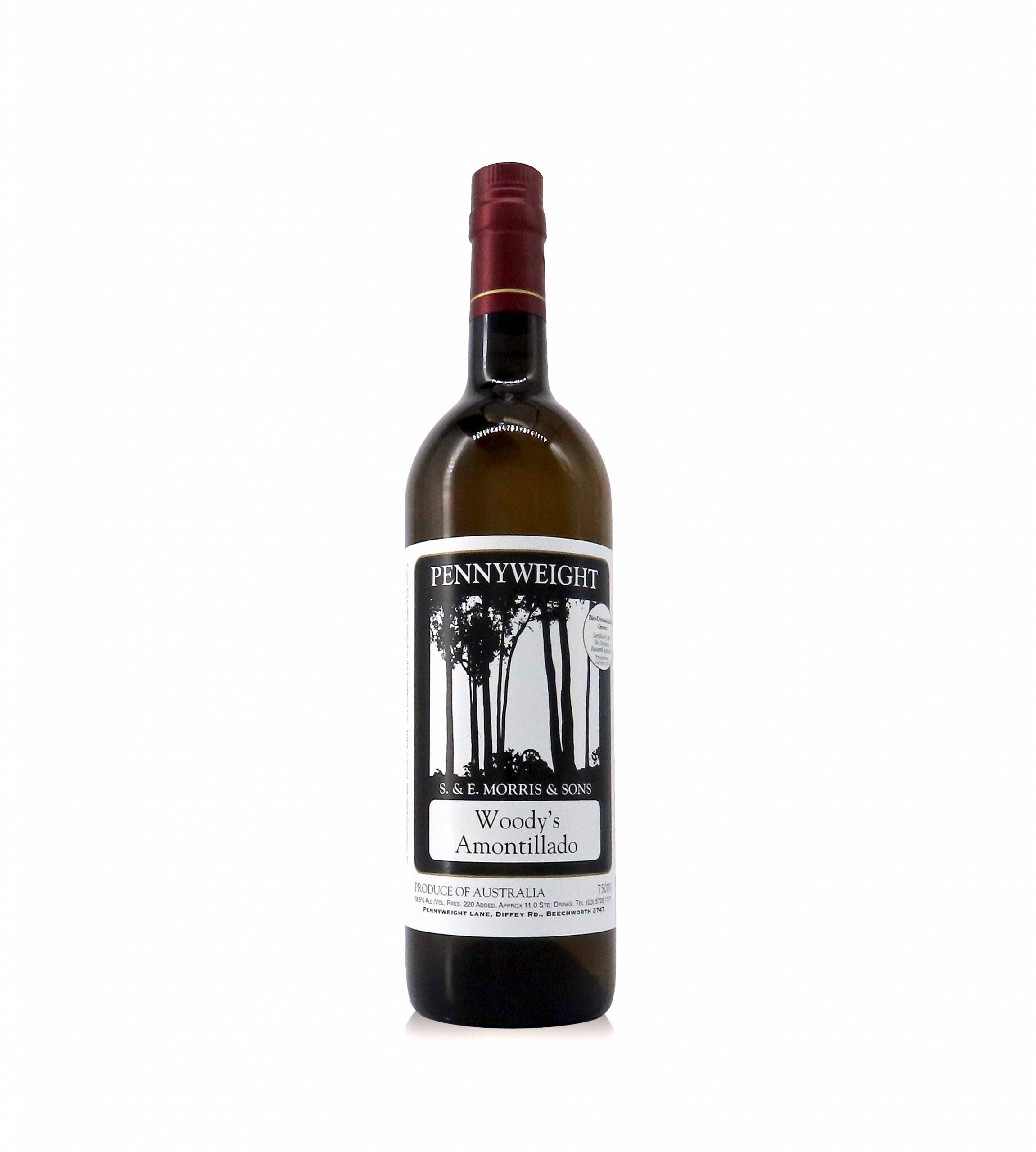 Woody's Amontillado

Average 8 years in solero
A more full- bodied sherry than the Constance Fino, darker in colour, with aged characters, as well as a flor aroma. The palate is full, dry, and nutty with a lingering finish.
Serve at room temperature, as an aperitif, or with soups.
The Woody's is named after Mr.Woodroffe, affectionately known as "Woody". He came over from South Australia in the late 20's to set up Seppelts' in Rutherglen. He was, amongst other things, a passionate sherry man and great friend of Stephen's father, Fred Morris. Woody left all his wine journals to Stephen.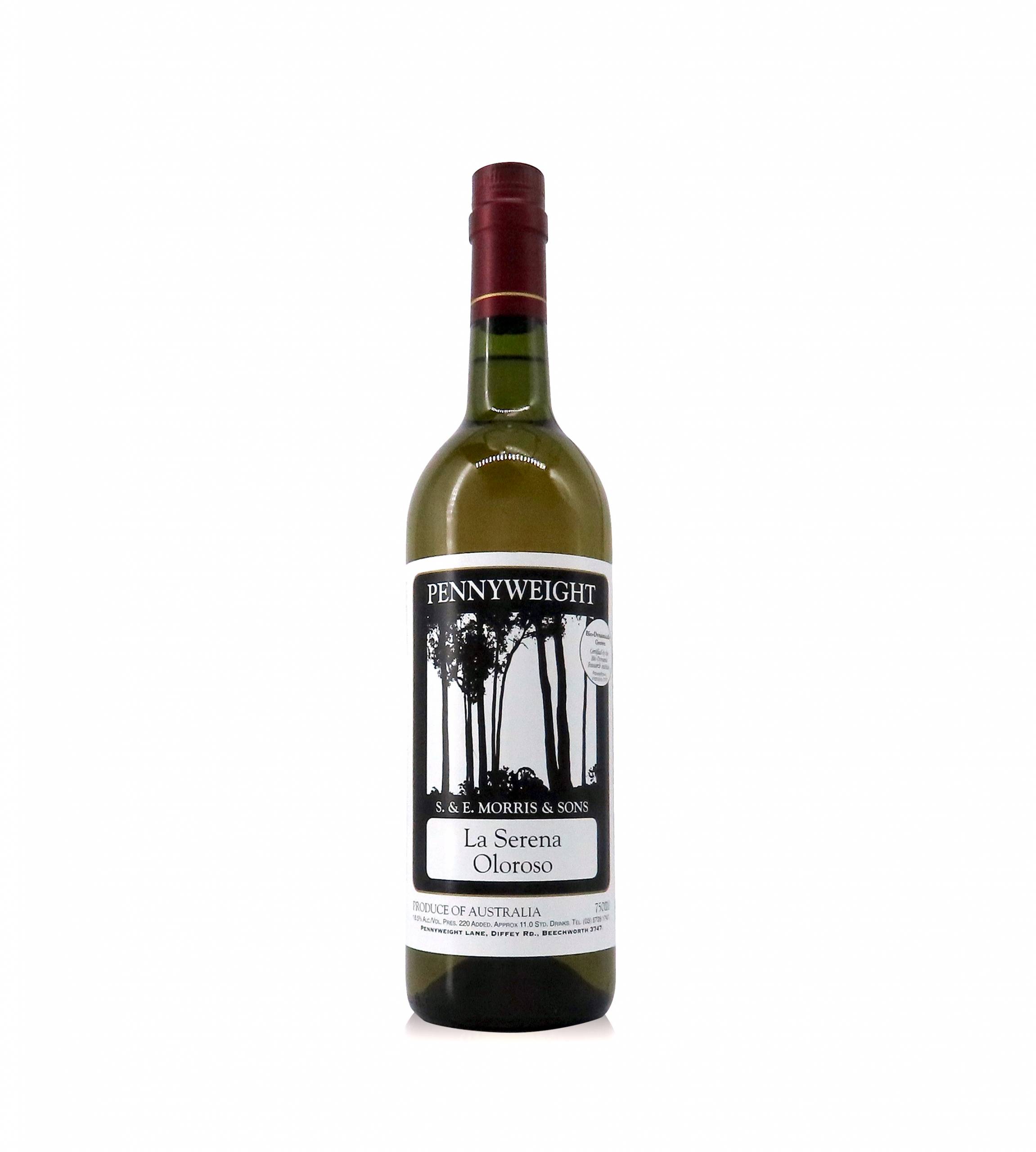 La Serena Oloroso

Average 6 years in solero
A rich, amber coloured, aged sherry, with a depth of sweetness on the middle palate, and a lingering dry finish.
Serve at room temperature, as an aperitif or with soups.
The name La Serena comes from "The La Serena" a winding road leaving Beechworth for Chiltern and Rutherglen. The road also passes along the La Serena creek. Being of Spanish origin we thought it a fitting name for our lovely Oloroso style sherry.
pennyweight online store
Our new online shop is open! Follow the instructions at the link and enjoy!